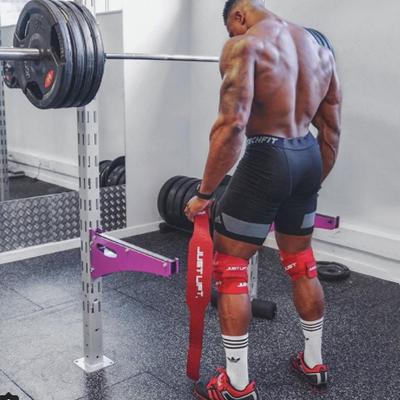 Adidas Originals White Crew Socks
@simeonpanda
White ribbed knit crew socks from Adidas' Originals series, worn in above August 17, 2017 Instagram post. The original post captioned by Panda with a call for comments on the subject of squats: "I love squats. Comment below if you love squats or if you hate them, comment why. Just Lift. Training Gear SIMEONPANDA.COM link in bio."
Select Comments include: " It's love hate relationship [crying laughing emoji] I can't wait for the day to come but when its time, I want to cry by 6th set [crying laughing emoji]" —@dejenga, and "I think these days with so much technology used behind making new machines, we can stay away from the old squat exercise. We stopped doing "front squats" in my day because they got a Seated leg press machine. The leg press machine mimics the front squat. Hack machine and a few others will target certain areas of the thigh in different ways so you can still get your results without injury to your back. We stopped doing "Good mornings" because of the same reason! I was a squat king in high school but I am paying for it now with a bad back. Loading all that weight up on your back will slowly break down the back. I use squats now for training my female clients but they don't go as heavy as the men. Anything over 225lbs is too heavy for the spine regardless of how strong the legs are. The spine and disc are not muscle when he gets my age he will have major spine degeneration like I do. But I'm sure he knows it's a cost to be the Boss…." —@msbfitness41.
Socks are in good condition, feature three stripes and in-knit Adidas logo. 61% Cotton, 21% Polyester, 16% Nylon, 2% Elastane.
Please place your bid
Please note: S.M.M.A.H. does not own the items displayed, final sale is contingent upon the permission of each item's owner and will only be sold with their approval.
If you are the highest bidder and your bid is approved we will contact you to finalize the sale.
Thank you.
The first auction house of its kind, The Social Media Memorabilia Auction House (S.M.M.A.H.) provides exclusive access to the world's most fascinating and enigmatic figures of social media.
Our expertly curated collection of personal and concomitant artifacts fosters an immersive digital and material network that honors the complex narratives of these unique objects, with the aim of enriching the cultural life of the world at large.
Filter by Person